Tube Type / Number: JAN-CKR-9003 / VT-203
Actual Brand*: Ken-Rad
Printed Brand: Ken-Rad
Quantity of Tubes: Single
Plate Construction: Black
Getter Construction: Top Fat D
Country of Manufacture: USA
Visible Date Codes: SC381A
Lettering Condition: 90 Percent
Year Made:
Mica Spacers: 2
Smoked Glass? No
Engraved Base? No
Boxes Included? 1 Box - Not Original
Notes:
** If the actual brand does not match the printed brand, this is perfectly normal. This is because many manufacturers made tubes for each other and also printed various amplifier and radio brand names on tubes destined for those companies. The actual brand was determined by the EIA codes printed on the tube. In some cases, the brand will be determined by the tube's construction **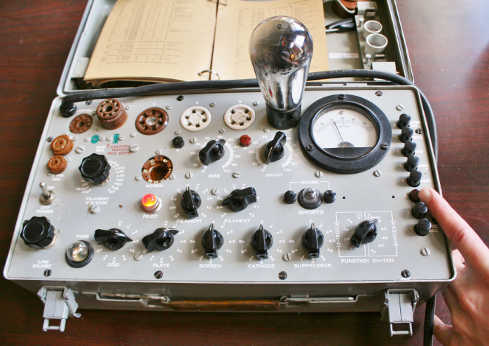 General Mutual Transconductance (Gm) Test Results:
50 Where the Minimum is: 38 and the NOS value is: 62
or
81% of what a NOS tube should test where the Minimum "good" value is 65%
Tests NOS?: No
True NOS?*: No

** Please note, many tubes will test NOS but will actually have a few hours of use on them. A truly NOS tube will have excellent getter flashing condition, no dirt/grime, usually in the original box, and no filament deposits. If a tube is listed as "tests NOS" but is listed as "not True NOS" please expect the tube to have a small amount of use *

All tubes have been tested using only the best tube testers. We have a large fleet of tube testers, and every single one of them has been calibrated within the last year by industry experts. We mainly use the Hickok TV-7D/U, but occasionally we may use a Hickok 539, 533A, or 600A.